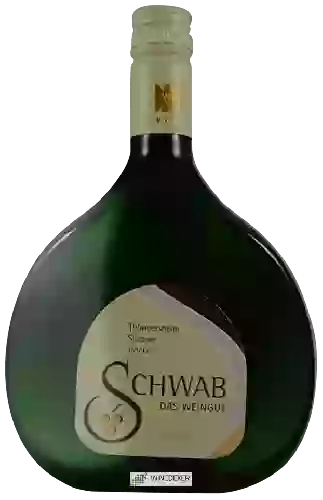 Winery Schwab
Thüngersheimer Silvaner Trocken
White wine
of Franken
of Germany
The Thüngersheimer Silvaner Trocken of Winery Schwab is a white wine from the region of Franken.
In the mouth this white wine is a .
This wine generally goes well with pork, vegetarian or poultry.
Taste structure of the Thüngersheimer Silvaner Trocken from the Winery Schwab
| | | |
| --- | --- | --- |
| Light | | Bold |
| Dry | | Sweet |
| Soft | | Acidic |
In the mouth the Thüngersheimer Silvaner Trocken of Winery Schwab in the region of Franken is a .
Details and technical informations about Winery Schwab's Thüngersheimer Silvaner Trocken.
Allergens
Contains sulfites
Discover the grape variety: Grosse Arvine
Most certainly originating from the Swiss Valais - Martigny and Fully vineyards - it is the result of a natural intraspecific crossing between the rèze and a child of the arvine with which it should not be confused. Today, grosse Arvine is practically no longer cultivated and remains completely unknown in France, as in all other wine-producing countries.
Last vintages of this wine
Thüngersheimer Silvaner Trocken - 2017
In the top 100 of of Franken wines
Average rating:
3.2
The best vintages of Thüngersheimer Silvaner Trocken from Winery Schwab are 2017
Informations about the Winery Schwab
The winery offers 38 different wines.
Its wines get an average rating of 3.5.
It is in the top 30 of the best estates in the region
It is located in Franken
The Winery Schwab is one of of the world's great estates. It offers 13 wines for sale in the of Franken to come and discover on site or to buy online.
In the top 150000 of of Germany wines
In the top 7000 of of Franken wines
In the top 350000 of white wines
In the top 1500000 wines of the world
The wine region of Franken
Franken, or Franconia in English, is a wine-growing region in the northwest of Germany's historic state of Bavaria. Though Bavaria may be more famous for its beer, Franken boasts a proud viticultural tradition and is one of the most unique regions in the country. There are just over 6,100 hectares (15,073 ac) of vines Planted in Franken and around 80 percent of these are white Grape varieties. Here, Riesling plays second fiddle to the often overlooked Silvaner and Müller-Thurgau.
News related to this wine
The word of the wine: Vintage scale
Complex system of classification of the communes of Champagne according to the value of the grapes which are produced there. In other regions, hierarchical situation of the productions classified by various authorities.