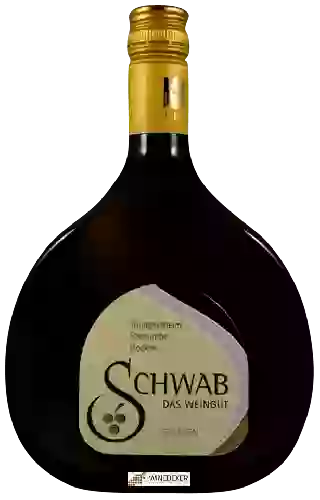 Winery Schwab
Thüngersheimer Scheurebe Trocken
White wine
of Franken
of Germany
The Thüngersheimer Scheurebe Trocken of Winery Schwab is a white wine from the region of Franken.
This wine generally goes well with
Details and technical informations about Winery Schwab's Thüngersheimer Scheurebe Trocken.
Allergens
Contains sulfites
Discover the grape variety: Scheurebe
German grape variety obtained in 1916 by Georg Shere (1879/1949). It was given until then as coming from a cross between Riesling and Sylvaner, but genetic tests have shown that its father is the Bouquettraube (Bukettrebe), and it is closely related to the Kerner. The Scheurebe can be found in Austria, Germany, Belgium, Switzerland, the Netherlands, Italy, Slovenia, Great Britain, the United States (California, Virginia, ...), Canada (Ontario, British Columbia, ...), ... practically unknown in France.
Informations about the Winery Schwab
The winery offers 38 different wines.
Its wines get an average rating of 3.5.
It is in the top 3 of the best estates in the region
It is located in Franken
The Winery Schwab is one of of the world's greatest estates. It offers 13 wines for sale in the of Franken to come and discover on site or to buy online.
In the top 25000 of of Germany wines
In the top 1500 of of Franken wines
In the top 150000 of white wines
In the top 500000 wines of the world
The wine region of Franken
Franken, or Franconia in English, is a wine-growing region in the northwest of Germany's historic state of Bavaria. Though Bavaria may be more famous for its beer, Franken boasts a proud viticultural tradition and is one of the most unique regions in the country. There are just over 6,100 hectares (15,073 ac) of vines Planted in Franken and around 80 percent of these are white Grape varieties. Here, Riesling plays second fiddle to the often overlooked Silvaner and Müller-Thurgau.
News related to this wine
The word of the wine: Maceration
Prolonged contact and exchange between the juice and the grape solids, especially the skin. Not to be confused with the time of fermentation, which follows maceration. The juice becomes loaded with colouring matter and tannins, and acquires aromas. For a rosé, the maceration is short so that the colour does not "rise" too much. For white wines too, a "pellicular maceration" can be practised, which allows the wine to acquire more fat.